Description
SkyPro named 'Most-Wanted' Swing Analyser
SkyPro beats six other swing training devices in USA group test
All testers put SkyPro top of their list
With over half a million monthly users, including many golfers from the UK and Ireland, MyGolfSpy's 'Most Wanted' group tests are among the industry's best-read golf equipment reviews.
Read The MyGolfSpy Review Here
SkyPro™ is a new way to improve your golf swing.  It is a small sensor that fits imperceptibly below your grip and monitors your club's motion during a swing.  This information is then transmitted wirelessly to your smartphone or tablet, which provides instant feedback on key features of your swing.
Make practice meaningful, and have more fun too, with SkyPro!
Golf's Most Powerful Swing Analyser and Training Tool, Now with Putting!
Instant Feedback
We believe that feedback is essential for improving your game.  Without feedback, you may not know if you're practicing a good habit or just repeating a bad one.  SkyPro provides you this information, and makes it as fast, accurate, and easy as possible.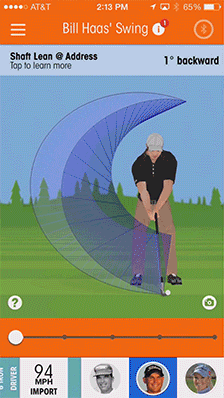 Accurate

3,600 measurements a second.  Precise club calibration using the sensors in your iPhone.  Continuously updated algorithms. SkyPro makes accuracy a priority.

Easy

Don't change your swing setup procedure.  SkyPro automatically records and transfers swing data to your smartphone, no button pushes necessary.

Fast

Instant feedback means not having to wait.  SkyPro's high-speed wireless link means you get your information as quickly as possible.

Powerful

Intelligent Power Management provides up to 8 hours of continuous use.  No on-off switch needed.

Stable

Anti-Rotational Stability (ARS) ensures your SkyPro stays calibrated and aligned throughout your session.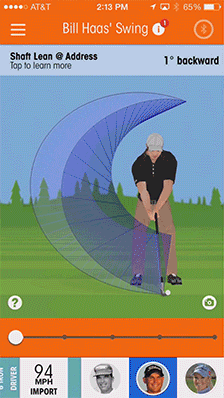 See Your Swing and Putting Stroke Too!
Thousands of critical data points about your swing path, club head speed, swing plane, club face rotation, shaft angles, putting stroke and much more are instantly beamed to a FREE app on your iOS smartphone or tablet to view from any angle in true 3D high definition.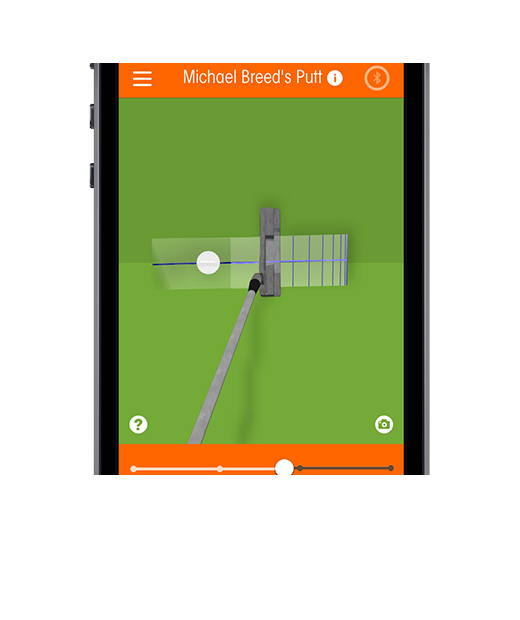 Detailed Analysis
SkyPro doesn't just provide you with feedback, it also helps you determine what to focus on during practice.  View your swing or putt from any angle, compare it to a favorite, or use the checkpoint system; SkyPro has many tools to help you find flaws in your swing. The end result is a thorough, but understandable, analysis.
Checkpoints


Get information about your club's position at key points throughout your swing. SkyPro will automatically alert you to any unusual values.

3D Freedom of View


Don't be limited to one camera angle.  View your swing from down the line, face on, above, or anywhere in between.

Groove


Find a Checkpoint that needs work?  SkyPro will provide you the instant feedback you need to groove a better swing.

Compare


Sync up and overlay your favorite swings from the not-so-favorite. Compare positions and tempos.  Now you can see exactly what changed.

Zoom


Zoom in for a detailed, close up view of any point in your swing. Double-tap or pinch to zoom.

Variable Speed


Play back your swing in real time, or slow it down for a more thorough analysis.
Groove Your perfect Swing
Use SkyPro's unique Groove and Focus Sessions to provide instant feedback on each swing. You will quickly correct your faults and start hitting the ball longer, straighter and more consistently than ever before off the tee and eliminate those 3 putts!
Improve Your Swing
Repeating bad swings and putting strokes only grooves the bad and not the good.  Now, you can see flaws instantly to make your practice time more meaningful and more productive. SkyPro is like having your personal swing coach everywhere you go.
SkyPro Swing Sensor

3-axis accelerometer
3-axis gyroscope
Zero-button sleep motion sensing
Dimensions: 1.8in L x 0.7in W
Weight: 23.5 grams

Shaft Attachment

Adjustable and compatible with most shafts
Fits putters to drivers

Power & Battery

Built-in rechargeable lithium-ion polymer battery
Up to 8 hours of continuous use, and 30 hours between charges
USB charging dock/case

Wireless Connectivity

Software Compatibility

Apple iOS 7.0 or greater
Android Jelly Bean 4.1