ES14 Portable Launch Monitor
The ES14 Launch Monitor is a golf tool for teaching professionals, club fitters and serious golfers. This amazing tool provides critical information instantly, yet it's easy to use and very affordable.
Come and explore the next level in Launch Monitor technology!
Enhance the teaching experience with breakthrough golf swing monitor technology.
Get Instant Audible Feedback and the ability to Practice as a Pro.
Top Golf Professionals and manufactures now using the ES14 as part of their coaching and club fitting programs include:
Alistair Tresidder Sherborne Golf Club, Adam Bishop Adam Bishop Golf Phil Smith Wilson Golf 
Heath Teschner Romsey Golf Club Clive Staddon Chandlers Ford Golf Academy
Create more interest in improving customer's game.
AC or Battery operated.
Resume previous session.
App available on Android and for iPad and iPhone
Download ES14 Launch Monitor Brochure/Manual
ES14 Launch Monitor video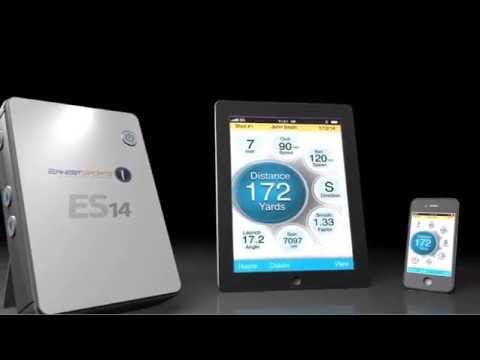 ES14 Launch Monitor
Statistics To Improve Your Game
Measure Ball Speed, Smash Factor and Back Spin together with Club Speed, Launch Angle and Distance.
The smartphone app connects directly with your ES14 device via Bluetooth, giving you the ability to track and analyze your practice sessions. Once you hit a ball, the speed and distance are displayed on the LCD screen of the ES14 launch monitor while the information is also displayed and stored on your smartphone. Programmable options include:
Altitude settings, Yards or meters, Loft settings
Carry or total distance, Customizable LCD display
Select length of idle time
Smartphone App Features
Range Sessions – start new sessions or joing an existing session Session Logs – allows the fitter to view olde sessions. Club Averages – records sessions ans gives an average. Change Settings Visual Tutorial – showing you how to use the app.
Range Sessions, Session Logs and Club Averages
Connect phone with ES14 launch monitor via Bluetooth. Select club and choose Range Session. After completion, view saved data in Session Logs. You can view data for each range session. View historical data and club averages.
App available on Android and for iPad and iPhone
Custom Fitting App Now available.

Buy ES14 Launch Monitor