Optishot 2 Golf Simulator
Optishot2 is an affordable, accurate and portable home golf simulator. You use your own clubs to hit drives, approach shots and putts – all in the comfort of your own home. • Flyover Movies in the Golf Courses section below! Never before has a golf simulator been so affordable for the average golfer. Play for fun with your friends or use the critical feedback to improve your swing.
We're an official reseller for the Optishot2 Golf Simulator
John Downie PGA uses Optishot at his academy in Ashington Northumbria for coaching his clients and says:
Optishot2 shows my clients what exactly is happening at impact with their clubhead. It's accurate, fun and a great coaching tool. It's great for the kids to come and have a go as well as it provides a wow factor and keeps them interested. We hold longest drive and nearest the pin competitions and I book 4 balls up to play 18 holes most evenings. The graphics are amazing on Optishot2 and I was amazed at the cost. What the system does is incredible value for money.
Above: Optishot Golf Simulator at the John Downie academy
Optishot2 Golf Simulator at Mercedes Benz World Weybridge.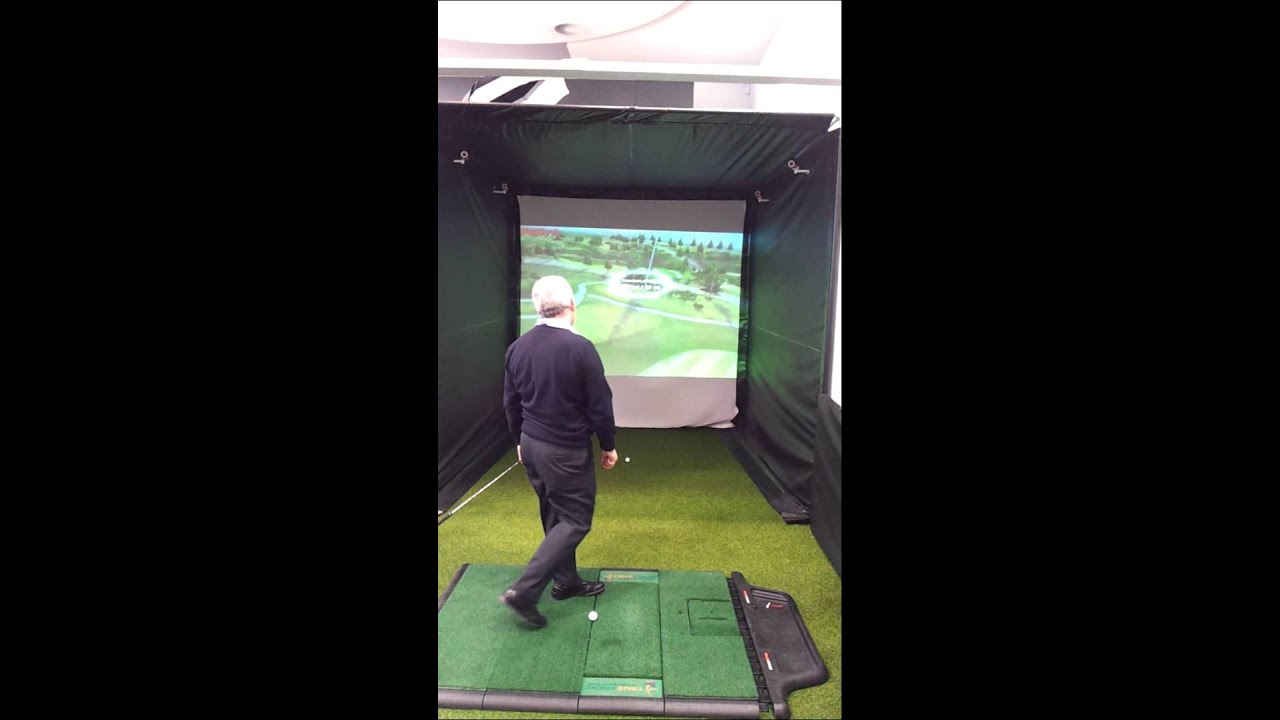 Optishot Golf Simulator
Realistic, Accurate and Affordable
Customise your own clubs into the system for the most accurate feedback
Analysis stats to improve your game and accurate swing analysis
15 Championship Courses, three premium courses & Driving Range
Convert into a full golf simulator for the ultimate experience
Play with up to 4 players
Hit all shots from tee to green
Crystal-clear graphics
Runs on Windows XP, Windows 7 or Vista
Screenshots
Golf Courses
The OptiShot2 Simulator currently comes with 15 courses which are all included within the price. Some course examples are shown below.
Palm Desert Mountains
The Golf Club Scottsdale
Long Island Black
Buy Optishot Golf Simulator
Buy Optishot Golf Simulator
What's Included
Infrared Optical Swing Pad
Replaceable Turf
3DD Golf Software
USB Cable (10 ft)
Foam Practice Balls
Adjustable Rubber Tee
Quick Start Guide
All you need is a Windows or Apple Mac computer, golf clubs, and an indoor area with an 8 foot 5 inch height ceiling.
Optishot2 is an indoor product and natural daylight can interfere with the sensors and cause misreads. We recommend a room with no sunlight and fluorescent lighting directed down onto the sensors from above for best results.
The Optishot2 System works by tracking what the golf club does through the impact area.
Windows Minimum System Requirements
Windows® Vista, 7 or 8 (latest service packs)
Graphics Card: 256MB Adapter RAM
Latest Video Drivers – No more than 18 months old
OpenGL 2.0 support
3GB Hard Disk Drive Storage
4GB RAM
USB 2.0 port
Internet connection
Mac Minimum System Requirements
Mac® OS X 10.8
Intel® Core 2 Duo
NVIDIA® GeForce® 8600M GT or
ATI Radeon™ HD 2600 or
Intel Iris
3GB Hard Disk Drive Storage
4GB RAM
USB 2.0 port
Internet connection
Full Systems
Prices for Enclosure, Screen, Projector, Mat, Turf, computer system and Touch Screen Monitor are on request.
Call Steve Joy
• Tel +44 (0)208 1441550
• Mobile +44(0)7966 382413
• Email