Optishot 2 Golf Simulator
£349.00
Official Optishot Distributor for the UK and Europe.
No more rain days.  No more off-season.  Play real-world courses, in your own home with your own golf clubs.
Optishot needs no room of its own, best of all, Optishot will improve your game.
Dynamic Gameplay: Play with up to 4 players in course mode, practice on the range, and play online and closest to the pin tournaments.
For indoor use only.
Next Working Day Delivery in the UK.
This product qualifies for Free UK Next Day Delivery
Order by 2:00 pm on Wednesday 6th December for free delivery on Thursday 7th December
Description

Designed to work with every club in your bag, it requires no big set-up or big expense. In fact, with an OptiShot2 Golf Simulator all you need is space enough to swing your clubs and a desire to improve.
Introducing Optishot Live
Now, play golf with OptiShot players around the world. Go head-to-head on every hole or join up with a foursome. Compete, socialise, win. It's a lively way to get the ball rolling and improve your play.
Games for 2 to 4 players. Meet up with friends or join in with others from around the globe
Minimal monthly fee
The OptiShot 2 Golf Simulator is undoubtedly one of the finest products on the market – it's among the best ways to improve your game away from the golf course. This award-winning product combines state-of-the-art technology with ease of use to make it simple to improve your handicap in between visits to the course. Compact enough to fit inside your briefcase, this is a highly sophisticated piece of equipment that really produces results.
The OptiShot 2 has been created by top designers and engineers in the field of golf analytics, and it has been developed to work with every club in your bag. There's no complicated setup or large expense – all you need is enough space to swing your clubs and you can get started straight away. This is one of the most convenient and natural systems, and it's a brilliant way to get better scores.
It really feels like you are playing real golf when you step up to the OptiShot 2 – using high speed 48MHz infrared sensors the system provides you with instantaneous feedback on your shots. This means you can get in-depth statistical analysis on your game to help you find the weaknesses and improve them.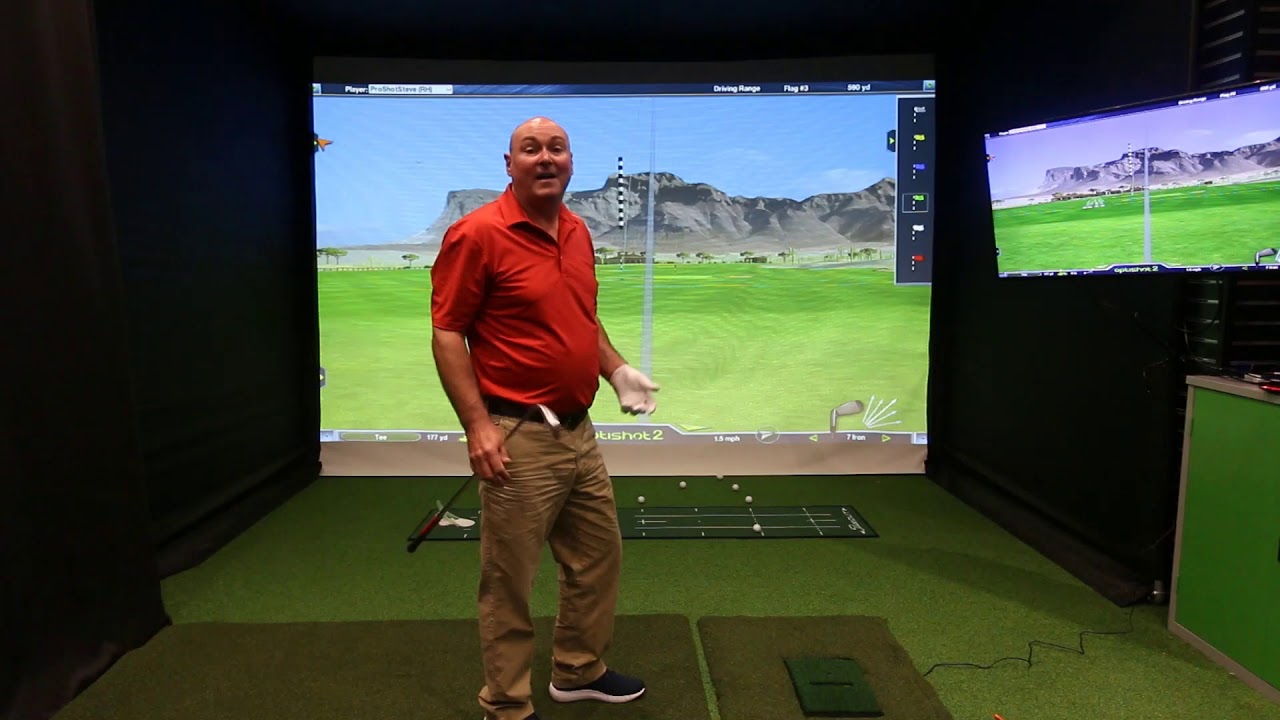 Optishot 2 Golf Simulator
Accurate swing and club analysis.  Get instant and detailed feedback on:
Club head speed +/-2.0 MPH
Face angle +/-1.5
Swing path +/-1.9
Distance travelled
Face contact
Swing tempo
Shot shape
Realistic, accurate and affordable.
Customise your own clubs into the system for the most accurate feedback
Analysis stats to improve your game
Includes 15 Championship Courses.
There are 17 extra premium course
Convert into a full golf simulator for the ultimate experience
Play with up to 4 players
Hit all shots from tee to green
Crystal-clear graphics
Accurate swing analysis
Premium real world courses.
Optishot2 includes 15 premium golf courses.  Play at real-world courses right from the comfort of your own home.
Further Premium courses can be purchased individually or included with a Mini Tour / Pro Tour subscription, for example Monterey Classic (Pebble Beach)
Optishot 2 Golf Simulator
Reviews (0)
Optishot2: What's included?
System requirements
Room requirements
Additional Info