Ernest Sports Tour Plus Golf Simulator & Launch Monitor
Tour Tested
For the first time the Tour Plus offers Quad Doppler Radar and Dual Photometric Cameras in one launch monitor.
With this revolutionary design, the Tour Plus delivers more direct measurements and provides the most precise club and ball data available.  Doppler is the most accurate technology for speed measurements, while camera technology excels in spin and directional measurements.  Ernest Sports has gone outside the box by developing the world's first hybrid launch monitor utilising both of these technologies.
This product qualifies for Free UK Next Day Delivery
Order by 2:00 pm on Monday 4th December for free delivery on Tuesday 5th December
Description
The Tour Plus connects to the free Ernest Sports app to provide additional shot data. It allows the user to select their distance to the pin and see live ball flight while additional graphs show ball flight from an aerial and lateral perspective. Analyse your range session by viewing club averages, shot dispersion, shot shape and individual shot statistics. Save your range sessions by user to keep your data separate from your friends, and watch your game improve over time.
Operating System: Windows 10 only (currently)
Ball Data
Carry Distance, Total Distance, Roll Distance, Ball Speed, Lateral Carry Distance,
Lateral Total Distance, Launch Angle, Launch Direction Angle, Spin Rate, Spin Axis,
Maximum Height, Hang Time, Shot Dispersion, Landing Angle
Club Data
Club Head Speed, Smash Factor, Angle of Attack, Spin Loft,
Face Angle, Club Path, Dynamic Loft
Full simulation
In addition to the Ernest Sports app, the Tour Plus is compatible with full golf simulation from The Golf Club 2019 and E6 Connect. With 3 great simulation options and well over 100,000 courses to play (including some of the most famous in the world!) the Tour Plus will always provide the next challenge to keep you and your golf game improving. Increase the length of your golf season by playing an 18-hole course from the comfort of your own home any time of the year.
ES Tour Plus Launch Monitor / Simulator
The only American Made golf launch monitor company proudly offers the ES Tour Plus Launch Monitor / Simulator. Combining dual, high speed cameras and quad Doppler radar, the remarkable ES Tour Plus is Tour-Tested, highly accurate and provides all 26 data points. Outdoors, the ES Tour Plus provides six fundamental data points: Ball Speed, Club Speed, Smash Factor, Spin Rate, Launch Angle and Distance.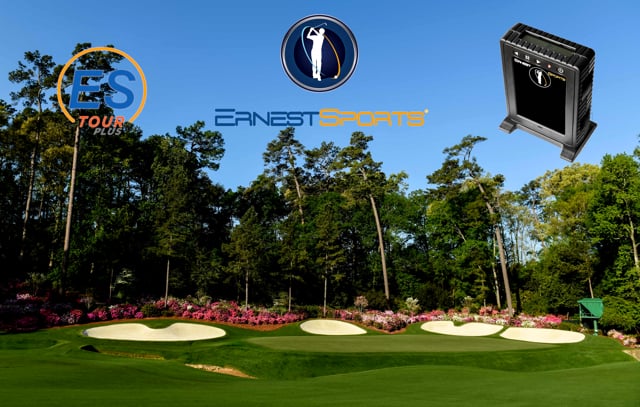 Ernest Sports Tour Plus Golf Simulator & Launch Monitor
ESGOLF App
Pairing the ES Tour Plus with the free award-winning ESGOLF App, you can easily utilize the color-coded club fitting / comparison tools. Compare up to five different drivers, wedges, shafts or golf balls…a simple side by side comparison for simple data comparisons. Furthermore, the virtual driving can be adjusted from 60 yards to 400 yards. Get the most out of your potential and equipment with the ESGOLF App and ES Tour Plus.
Reviews (0)
Additional Info