Wellputt The Big Tilt M Pro
£16,995.00
Big Tilt M Pro
Well-Line – Yes
Vacuum – Yes
BigTilt M Pro : Green size : 9,8×6,6ft.
Total size with projector: 10,4×7,2ft.
This is the new Wellputt putting training concept. The Big Tilt is a tilting platform that allows you to reproduce real game situations in order to train effectively. Includes a laser aiming system and an automated vacuum cleaner. Suitable for all level players to progress quickly with fun exercises. The different programs will help you understand and build different putting strategies.
The Wellputt Big Tilt will meet the needs of many golfers, from the beginner wanting to understand the trajectories, to the professional who wishes to teach putting with different analysis tools. By recreating real life game situations, the training program will make you progress rapidly and in a playful manner. It can be installed anywhere, in the comfort of your living room, your basement, your club-house, your golf academy or your putting studio. You will stay away from the cold and rain and you can even play at night!
Description
The Wellputt The Big Tilt
The Well-Line Technology is a laser projection system which indicates to the player the ideal putting trajectories. But it is not only an aiming system.
Many other features are available:
the 3 trajectory lines : Aggressive line, Wellputt line & Fall-in line,
automatic training programs,
evaluation programs,
different putting games and challenges
tools aids for speed, stroke, stance control and many others
Well-Line is the new Wellputt high tech product.
Coupled with the Big Tilt, this new training concept puts the player in a real game situation with different green slopes. The Well-Line system allows the player to hit his putts with more confidence and certainty.
---
---
App Training Programs
Available on iOS & Android, smartphones & tablets
Get your exclusive putting exercises for your Big Tilt Pro Max, available on your mobile phone and tablets!
We developed a simple and intuitive app so that you could train freely on your platform at home or with your coach.
This app proposes a variety of different exercises and training programs designed by professional coaches, to improve your putting skills. Each program has a number of exercises suited to your needs and to your putting level.
---
---
More than 150 exercises for you to train with!
 Rythmic program
 Speed control
 Aiming program
 Side putts / uphill putts / Downhill putts
 Slope reading with Well-line
 Time pressure
 Games & challenges
---
Delivery on a single pallet of 2.6ft x 3,9ft x 7ft / 80cm x 120cm x 215cm and weighs approximately 716lbs / 325kgs.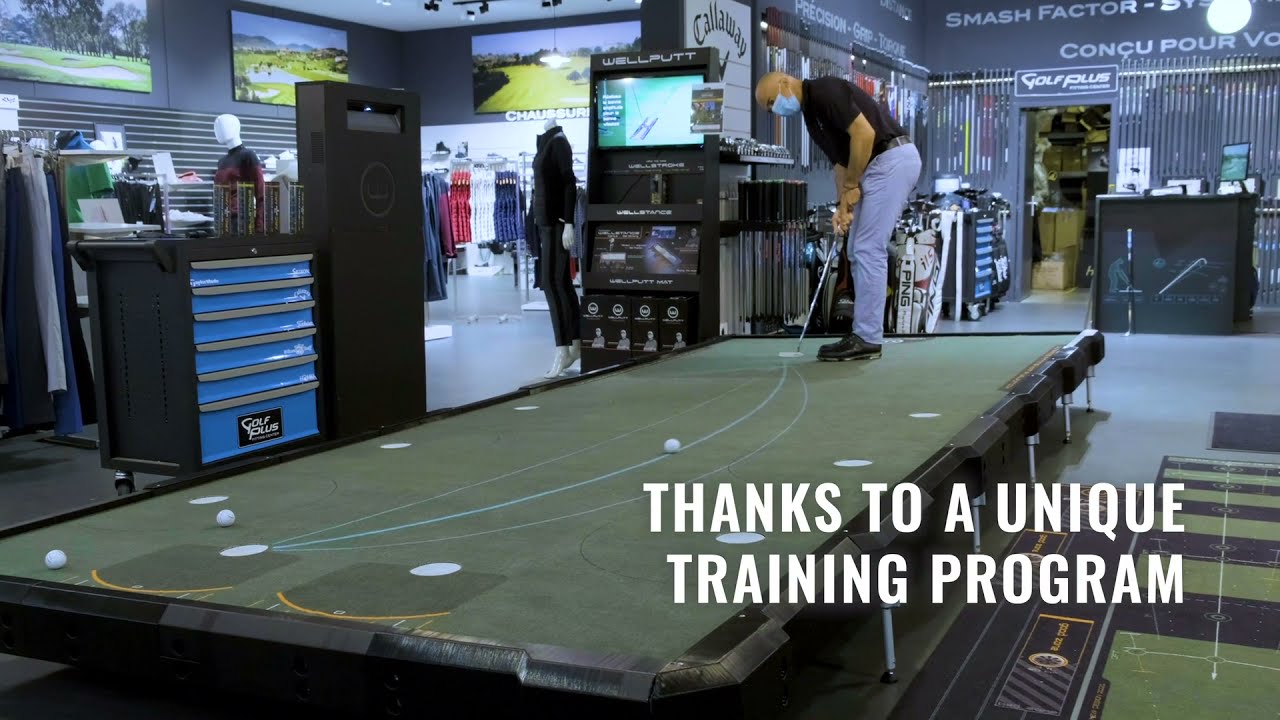 Wellputt The Big Tilt M Pro
Reviews (0)
Additional Info