Using your golf simulator as a home cinema: what to consider
A golf simulator is a considerable investment but did you know that it can double up as a home cinema? Deciding to give your golf simulator a dual purpose could be the thing that tips the balance of getting one in your favour.
After all, if you can use your golf simulator to spend more time with your family and improve your game then it's a win-win! Let's take a closer look at what you should consider when using your golf simulator as a home cinema.
1. Choosing the right projector
When opting for a projector for your golf simulator, it's also important to consider what you may need for a home cinema. To prevent unwanted shadows from your projector, ensure that it is a short throw model and ideally positioned within 1-3 metres of your screen. A long throw projector has further to travel and may cast a shadow that can be annoying and distracting.
We also recommend that you opt for a high-definition projector to ensure that the picture quality is as good as possible. Get the best projector that you can afford when choosing a dual-purpose golf simulator. Lower resolution might not impact your golf game as much but when watching or streaming films and TV it makes all the difference.
2. Impact screen quality
Just like the projector, the quality of your simulator's impact screen is important. Impact screens come in different sizes and qualities so make sure your decision considers both: playing golf and watching films. A good dual-purpose impact screen will have high-definition projection capabilities while also being durable enough to withstand the impact of countless golf shots.
To ensure the best picture quality, your simulator impact screen needs to remain tight throughout its lifetime. Durability is essential as it concerns the longevity of your simulator and the quality of your viewing. Alternative screens like the archery screen as seen in our video are other viable options.
3. Sound matters
When going to the cinema you will notice that not only is the picture quality amazing but the sound system is earth-shatteringly good too. While a state-of-the-art sound system is not essential for enjoying your golf simulator, it makes all the difference when it's time to get the popcorn out. The difference between a good sound system and a bad one is like night and day.
Installing an external sound system is a must for movies, and while quality is important it's less critical to get the best of the best in this regard. Considering that decent soundbars can be bought for under £200, it's a great addition to your home cinema without breaking the bank.
4. Projector location
Location, location, location isn't just something that homebuyers concern themselves with. For golf simulators, projectors are either mounted to the ceiling or positioned on the ground.
When installing a projector for a home cinema, ideally you would choose one that is mounted to the ceiling. The main reason is that it saves floor space so you can have more people over without worrying about blocking the screen. Alternatively, a ground projector is transportable which allows for movie nights in the garden during the summer.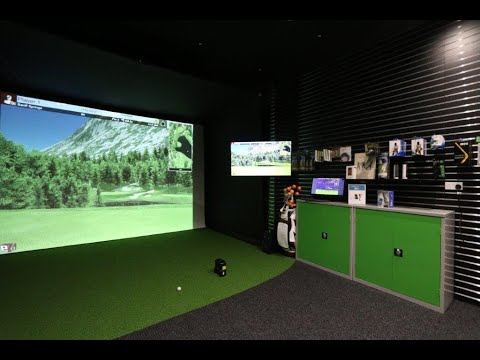 Using your golf simulator as a home cinema: what to consider
5. Choosing a golf simulator launch monitor
Golf simulators come in different forms but you may wish to consider a portable launch monitor when opting for a dual-purpose space. As the launch monitor is considered the brains of your operation, you don't want it inadvertently getting damaged by some raucous kids re-enacting their favourite Marvel heroes on the screen. A portable launch monitor, such as one from SkyTrak, can be removed from the space when transforming your golf simulator area into a home cinema.
6. Choosing your computing system
Typically, a golf simulator will require some form of computing system to run the simulation aspect – this can be done on a computer or a tablet. If you are using a computer to run your simulator, check what the graphics capabilities are. This is important for the smooth running of your simulator and it also allows for high-definition images for your movies.
Running your simulator through a tablet may require some additional tech like a DVD player or a portable streaming device, such as an Amazon Fire TV Stick. No matter which projector you are using, make sure that it is compatible and has the correct ports to work with your entertainment devices.
7. Furnishing smartly
You are going to want your home cinema to be comfortable but it's important to consider how it will impact your golf simulator before you load it up with sofas. Naturally, swinging a golf club requires a certain amount of room and filling that space with furniture can restrict your swinging action. However, you do want to be comfortable when chilling out so finding furniture that fits the space for both functions is essential.
8. The floor is also important
Most golf simulators use artificial green turf as a base and it's important to preserve this when doubling it up as a home cinema. We suggest removing your hitting mat when converting the room to ensure it doesn't get damaged by any additional furniture you bring in or by someone lying on it. Of course, you also don't want anyone spilling their food or drink all over your plush hitting mat, so do what you can to protect and preserve it.
9. Setting the mood with lighting
Being able to shut out the light is important for the home cinema experience, so we recommend installing blinds or curtains to remove any natural light. However, you don't want people tripping over each other so additional low-level or dimmable lighting can come in handy. It's just as important to ensure that whatever additional lighting you put in place doesn't detract from the screen during films.
Check out our video of Steve from Golf Swing Systems here demonstrating how your golf simulator-come-home cinema could look. If you like the idea of installing a golf simulator and home cinema why not take a look at our bespoke golf cabins. Or, if you have some general enquiries about golf simulators, get in touch with a member of our team to find out more.