Exputt RG Putting Simulator
Golf Putting Simulator
Bring the Green to Life, Right in Your Living Room.
Easy to set up and simple to use, Exputt RG uses a high-speed camera and innovative software to track your swing mechanics and ball movement. Just roll out the putting mat and plug in the high-speed camera, and you'll be on your favourite course green in no time.
Golf Swing Systems is an Exputt authorised international re-seller.
This product qualifies for Free UK Next Day Delivery
Order by 2:00 pm on Thursday 7th December for free delivery on Friday 8th December
Description
Exputt RG Upgraded features
Practice on real-life greens
Upgraded camera system
Innovative tracking mat
Wifi enabled for online gaming
Various distance change modes
Forward slope options
Play online with up to 4 players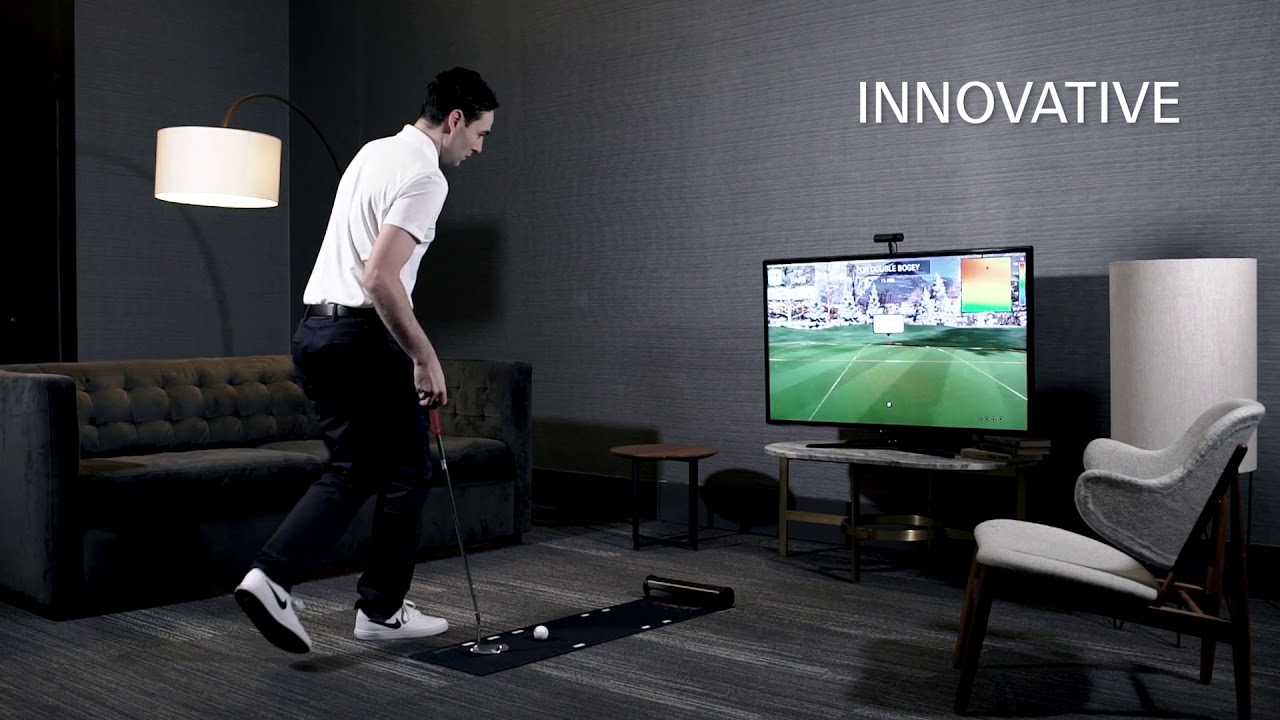 Exputt RG Putting Simulator
Wi-Fi Enabled
Now Wi-Fi enabled, the ExPutt RG can receive automatic software updates, ensuring your ExPutt RG is always up-to-date with the latest software.
Compete Online
Challenge yourself and improve your short game by competing online against other ExPutt RG users all over the world in a variety of game modes.
Real Course Greens, Real Improvement
Improve your short game on your favorite course greens from the comfort of your living room with the ExPutt RG. With new course greens added all the time, the ExPutt RG is the only putting practice aid that allows you to practice on real-life greens.
Instant Feedback
Hone your swing mechanics with the ExPutt RG, as it provides detailed feedback on each putt you make, including analysis on ball speed, putter direction, and clubface angle.
Practice on a variety of slopes and greens to simulate the true experience of putting on a golf course, with tour level green speed conditions. The distance controls allow you to really work on both the long and short of your game. Exputt RG even simulates various weather conditions with different modes for spring, summer, autumn and winter.
This is the real-time putting simulator you have been looking for – fun, hassle free, innovative and accurate.
Exputt RG is designed to allow you to work on your putting game from the comfort of your home, taking on the challenge of various different slopes and greens in a range of seasons – simulating the true experience of putting on a golf course throughout the year.
From installing to playing, everything about Exputt RG is designed to be simple to use and fun to experience. With a camera that connects directly to your TV, it is as easy as installing and getting going in a matter of minutes.
The technology is extremely accurate, never estimating anything about your putting. Your shots are measured using comparative analysis from the ultra-high speed Exputt camera. Each stroke is precisely analysed to help you understand and improve consistency in your game.
Fun
Exputt RG allows you to practice on a wide variety of different slopes and green speeds, simulating the experience you'd get on a real golf course.
Hassle-free
It wouldn't be fun if it's complicated. From the installation to play, we did hard job to make your experience as easy as possible, so there wouldn't be a big learning curve.
Accurate
Exputt RG doesn't simply estimate the ball's speed and direction—it precisely measures them based on a comparative analysis from an ultra high-speed camera in real time.
Innovative
On the every stroke, Exputt's groundbreaking technology precisely analyses your ball and putter's movements, so you can keep your stroke consistent leveraging the analysis.
What is included:
Exputt camera
Putting mat
Simulator software
Leads and cables
Reviews (0)
Additional Info