Eyeline Golf Groove Putting laser
£89.95
The Eyeline Golf Groove Putting Laser has been skilfully developed to provide an exceptionally high quality laser putting aid at a great price. The dotted line pattern created by the laser offers fantastic visibility, helping you to work on your putting game. The product also has excellent battery life with batteries typically lasting between 10 and 12 hours of play time.
Durable and well made, this is a training aid with a long lifespan, so if you are looking for a way to improve your consistency and performance while putting, this is a great choice.
This product qualifies for Free UK Next Day Delivery
Order by 2:00 pm on Wednesday 6th December for free delivery on Thursday 7th December
Description
The new powerful Groove+ Putting Laser is easy to use, providing instant visual feedback.  Simply shine the laser crosshairs and align them with the face of the putter, bisecting the putter head.  Make your stroke.  If your hands rotate the putter face, the laser target line will point to the right or left.  Keep your hands quiet and the line through the ball will track perfectly on the target line – back and through. Amazing!
The strong tactical grade housing is built for durability and long life. We used a high grade glass lens and a Poly-carbonate shaft connector for strength. It's time to Groove your stroke!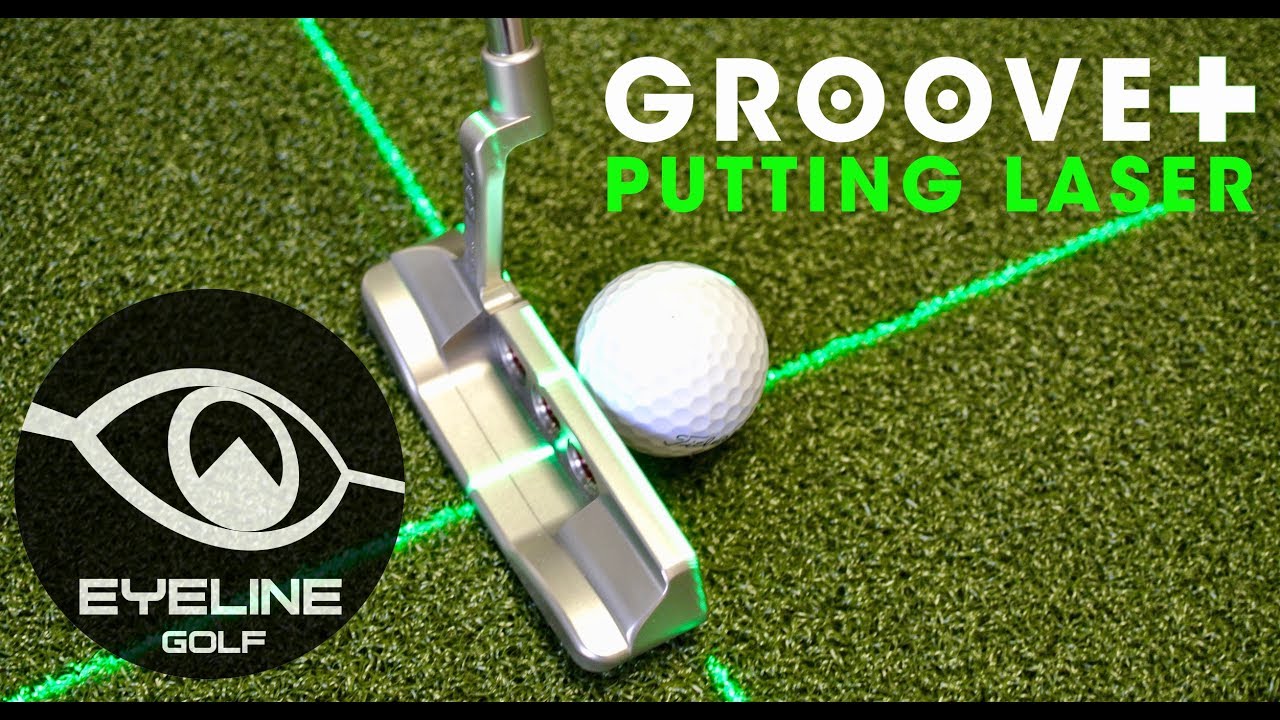 Eyeline Golf Groove Putting laser
Setting up your Groove+ Putting Laser:
Loosen the Groove Shaft connector and push the connector onto the shaft near the putter head
Slide the Groove+ Laser up the shaft to your desired position, then tighten the connector
Adjust the Groove+ Laser to shine onto your target line, bisecting the putter head
Using your Groove+ Putting Laser:
Shine the laser onto the impact point of the putter, bisecting the head.
Select a straight line perpendicular to the putter head.  This can be a line on the floor, a piece of tape, or the Putting Sword.
Make swings, like a grandfather clock, keeping the laser on the line.
Make strokes keeping the laser on the line.
Hit putts rolling the ball down your line.
Hit putts with the ball on the ground and the laser shining outside the ball:
If you want to hit putts with the ball on the putting surface and not on the  "line", simply set the ball just inside the line, and adjust the laser to shine onto the line.  Make strokes hitting the ball and keeping the laser on the "line".
If the laser is not staying on your line, watch these checkpoints:
If the laser line is rotating open and closed, then the putter head is opening and closing.  Usually the hands are actively manipulating the putter.  Keep them soft and quiet.
If the Laser line is moving off your line, it is usually your putter path.  The putter face is quiet, but the path is too inside or outside the line.  The Groove+ Laser is made to help with this.  Make slow strokes while tracking the Laser on your line.  Pay attention to the feel of this stroke.  Repetition, repetition, repetition…
If the Laser line is moving off your line, it is usually your putter path.  The putter face is quiet, but the path is too inside or outside the line.  The Groove Laser is made to help with this.  Make slow strokes while tracking the Laser on your line.  Pay attention to the feel of this stroke.  Repetition, repetition, repetition…
Reviews (0)
Additional Info