Special Edition Tournament PuttOUT Mat
£69.95
Following on from PuttOUT's massively successful Tournament SPECIAL EDITION range launched in 2020, they have decided to bring the range back for 2022.
PuttOUT have upgraded the Premium mat design, accompanied by the bestselling PuttOUT Pressure Putt Trainer & Mirror & Gate Set 'As used on the PGA TOUR'.
PuttOUT produced a few to give away during this years tournament and the feedback was so incredible that PuttOUT just had to bring the range back for 2022!
To be the best putter you can be takes practice. With the PuttOUT Putting Mat, you have a reliable base for practicing the most underrated part of anyone's game: putting.
50cm x 240cm
Green with yellow markings.
This product qualifies for Free UK Next Day Delivery
Order by 2:00 pm on Monday 4th December for free delivery on Tuesday 5th December
Description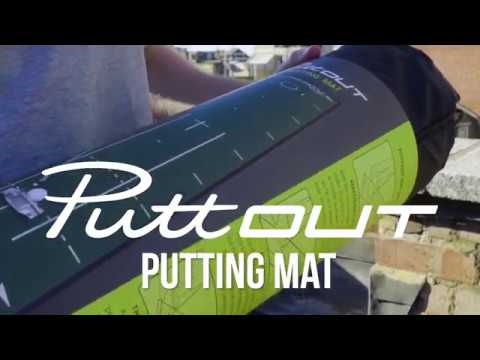 Special Edition Tournament PuttOUT Mat
Reading 10 on the stimpmeter, the PuttOUT Putting Mat means you'll be practicing on a medium-to-fast paced green away from the course, ready to take on any speeds throughout the season.
Crease-free
Encased in a protective, dense cardboard cylinder, our mats stay tightly pressed and crease-free from delivery and all throughout the product's lifetime.
Rolls Flat
With extra-thick TPR rubber backing, this mat rolls flat straight out of the packaging, giving a consistently smooth and reliable roll, allowing you to focus on making your stroke the best it can be.
Small Spaces
Designed with usability in mind, our Putting Mats are easy to roll up for storage, and come equipped in a low-profile black drawstring carry bag to give you the perfect station to practice your putting anywhere, any time.
Reviews (0)
Additional Info