T-Stroke BLACK 'Tour Edition' Putting ARC Mat
£28.99
The Tour Arc mat defines the ARC Putting technique to the tour level.
Designed by Tour Coach Andy Gorman this refines years of experience coaching professionals.
This product qualifies for Free UK Next Day Delivery
Order by 2:00 pm on Thursday 7th December for free delivery on Friday 8th December
Description
The T-Stroke BLACK 'Tour Edition' Putting ARC Mat has been designed following 'years' of player feedback and research. Based on the hugely successful original T-Stroke Putting Mat, continuous research & feedback has seen the application of a slightly straighter/flatter arc on a striking new matt black background, meaning the lines are clearer and easier to follow.
The 2 Dimensional arc on the mat is designed to assist the player with understanding the relationship between the sweet-spot path and putter face positions whilst maintaining the shaft-plane during the stroke.
 Simply place the ball on one of the illustrated balls in the middle of the mat.
•  Align your putter squarely to the target-line, and move your putter back and forward whilst maintaining the sweet-spot of the putter on the white 'ARC' line.
•  The correct face rotation is indicated by the alternate red & silver lines perpendicular to the 'ARC' line.
•  Use tees in the holes either side of the target-line for accuracy training and practice back & forward stroke lengths, red-to-red, silver-to-silver for tempo training.
Haydn Reay Tour Professional Demos The T Stroke BLACK Tour Edition ARC Mat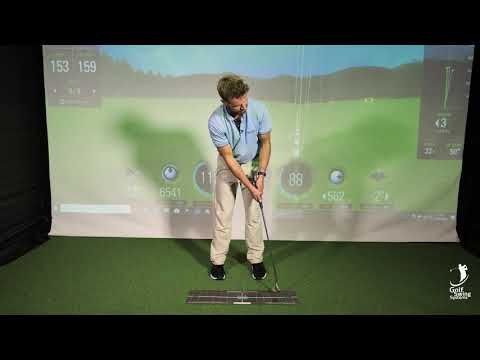 T-Stroke BLACK 'Tour Edition' Putting ARC Mat
Reviews (0)
About Andy Gorman
Additional Info